Session information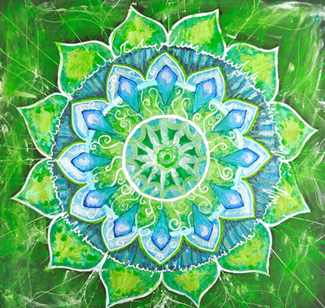 Each session you receive from Mark is individually prepared
to meet your needs in the most effective and efficient way possible.
Your needs determine the content of the program and each program session.
Generic scripts and standardized protocol are never used.
Whether it's a two- or ten-session program,
you will receive the highest quality content at each appointment.
---
Free Initial Consultation
Mark invites you to schedule a free initial consultation to find out more about the holistic services and programs he offers. The initial consultation serves to inform and educate; it is not a sales pitch. During the consultation you are invited to share as much or as little as you like. Because holistic-based healing practices aim to include the client's whole-self in the healing process, a high degree of trust and rapport between the client and practitioner go a long way to maximize effectiveness.
Having worked individually with hundreds of people, Mark understands the importance and value of the initial consultation. When handled properly, the consultation serves as the foundation to the client-therapist relationship. Mark does not short-change the consultation by handling it by phone or limiting it to 20 minutes or less. In most cases, the free initial consultation is held in person and is 1 hour long. Allow extra time if you have many questions you would like answered.
Free Consultation Outline:
I. As with every appointment, you can expect your initial consultation to begin on time. Mark schedules his appointments to ensure you will have little or no wait time.
II. You will be asked to fill out a short and simple Client Intake Form which remains strictly confidential. Client information is never sold or shared to any outside source. (If you are interested in Holistic Hypnotherapy and/or Medical Hypnosis, you will not be required to fill out long questionnaires or lengthy suggestibility scales. If you can fall asleep at night, with or without sleeping pills, you can easily experience hypnosis. Mark is trained in all major hypnotic induction techniques, in addition to having developed his own techniques through years of practice.)
III. Mark will review the Client Intake Form with you and ask some questions in order to get a clear idea about what you would like help with, including a brief history of symptoms, your treatment goals, previous and current treatment steps taken, and what you would like to experience in terms of program objectives. You are given the space to share as much, or as little, as you feel comfortable with sharing.
IV. Working within the context of your goals and objectives, Mark will share information on the services he offers and will explain how they can help you and what you can expect. If applicable, Mark will review treatment and therapy options with you and present an outline for a custom program that best matches your needs, interests, and objectives. Custom programs offer the most effective and affordable way to experience the results you want. Many times, several subject areas are covered in a single program, e.g., weight loss, exercise motivation, stress release, and self-image enhancement are brought together to ensure optimal results.
V. As required by California law, Mark will share his education, background, and training with you.
VI. Program and session details and logistics are clearly explained to you. You will be told exactly how many sessions are recommended and what the cost will be.
VII. After covering the above material and having answered all your questions, you will be asked what you would like to do. You can schedule your first session at this time, or you may wish to think about it or talk it over with your partner or spouse—whichever you prefer is fine. You will not be pressured to make an immediate decision. The consultation is simply intended to inform and educate.
Sample Session (weight loss)
I. Report: Your session will begin with Mark asking for a report from you. You are invited to share your experiences and any new thoughts or insights that came to you since your last session. Mark will review your progress with you, and, based on your experiences, make additional recommendations to help you meet your program objectives.
II. Consulting–Eductational Component: Building and expanding on previous session material, Mark will share additional key ideas, concepts, techniques, and exercises you can use to further move you in the direction of realizing your program objectives. Conventional and non-conventional methods to support health, healing, and positive change are given for you to explore and work with on your own. For weight loss, you will learn helpful and useful techniques to move past overeating, comforting eating, and/or eating in response to stress. Many simple yet powerful techniques that support weight loss in the "real world" are provided. On a deeper level, you will be given foundational material aimed at establishing lightness as a way of life. Clients receive printed handouts of the material presented.
III. Core Content: Sufficient time is given to provide you with one or more of the holistic services Mark offers. The core content for a weight loss session may include, releasing old behavioral patterns related to food and eating habits, transforming the self-image and self-concept to support your optimum weight, increasing the desire and motivation to exercise, and resolving subconscious fears, self-limiting beliefs, and old conditioning that prevents healthy weight reduction.
IV. Review: The session concludes with a quick review of key points covered during the appointment. Time is then given for you to ask questions and to clarify any material if necessary.
Flexible and Convenient Hours and Location
Location: Mark's practice is located in historic downtown Nevada City, CA, at 310 1/2 Broad Street, Nevada City, CA 95959.
(See map) Telephone and Skype appointments are also available.
Hours: Appointment hours are 9:30 a.m. to 6:30 p.m., Monday thru Friday, weekend appointments are available.
House calls and hospital visits available. To better serve those who can benefit from the holistic health and healing services Mark provides, house calls are available at no extra charge to local residents. You can arrange to have your appointments at home or at your place of work (if appropriate). Mark also sees clients who are confined to nearby hospitals, retirement homes, convalescent homes, shelters, and treatment centers. Mark serves the towns of Grass Valley, Nevada City, Penn Valley, and the surrounding area.
Session Details
Session length and scheduling. Most sessions are 90 minutes long. Session rates are by appointment, not by the hour. This allows Mark to spend extra time with you as needed at no additional charge. Sessions are usually scheduled on a weekly or twice-weekly basis, depending on your program objectives and current situation. Mark provides an integrative and inclusive session experience for you that allows you to receive the benefit of multiple services at each appointment.
Cost. Rates are $150 per session with the program discount, and $175 for a single one-time session. The automatic discount applies to any program when you agree to two or more sessions. A considerable amount of content and material is covered in each session.

Payment Method: Check, Cash, Venmo, PayPal, Visa, Master Card, American Express, or Discover.
Flexible payment arrangements available. You do not have to pay in full for a program in advance in order to receive the program discount. Because Mark spends considerable time putting your custom program and sessions together, clients agreeing to a program are asked to pre-pay their last session at the start of the program.
Under the age of 18? All clients under the age of 18 will need to have a consent form filled out and signed by their parent or legal guardian. In addition to offering a Teen Empowerment custom program, Mark sees minor children as young as 8 years old. For young children between 8 to 12 years old, Mark will ask for one parent to be present throughout the entire session. This helps the child to relax more easily and allows the parent to better understand the key concepts and ideas being worked with in session. Additionally, Mark will be working closely with one or both parents throughout the program and time is given for one-on-one communication between Mark and one or both parents. Working together as a team in this way provides the best results for your child.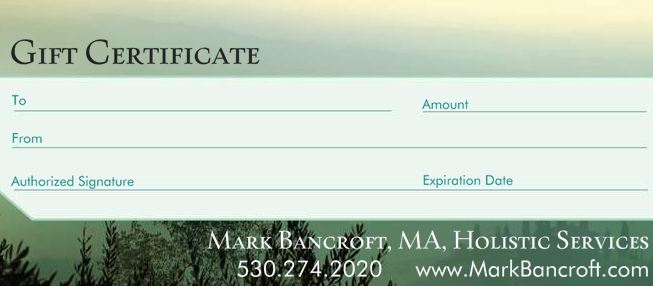 Gift certificates available. If you know someone who you think would benefit from the holistic services Mark offers, a gift certificate for a single session or series of sessions makes for an original, special, and potentially life-changing gift. Gift certificate recipients often say, "I had no idea anything like this even existed. I am so glad I found out about it."

e-mail: This email address is being protected from spambots. You need JavaScript enabled to view it.
* Note: results may vary from person to person